March 2014
One of Starfinders' earliest members, Nury Ortiz, returned as a coach after graduating in 2012. When Nury's brother broke his ankle, she knew just want to do because of her soccer training. That feeling of confidence, the reward of helping someone else, and the joy she found in coaching at Starfinder inspired her to pursue a career she'll love instead of just a job that pays the bills.
Today Nury's doing a tour of duty with the National Guard while saving up to enroll in college to become a physical therapist.
In 2010, Nury and other Starfinder members represented the United States at the FIFA Word Cup's 2010 Football for Hope Festival [link to Football for Hope information, wherever its going to live]. Nury returned to the 2014 Festival in Brazil, this time as a coach with Starfinder.
We caught up with Nury shortly before she left for Brazil in 2014. Here's what she had to say.
When did you start playing soccer?
I started right after my brother started. I must have been seven or eight, and I went to Feltonville [Soccer Club]'s summer camp. My brothers play soccer. Our whole family plays soccer. So when I started, the whole family just molded everything around soccer. It was, get home then do your homework then soccer then bed.
What's the best thing that happened to you at Starfinder?
Definitely the trip to South Africa. That was the closest I was ever going to get to playing in the World Cup. I felt like, as a soccer player, I achieved my dream. A lot of people never get to see the World Cup if they don't have a lot of money. It was good for me. I developed confidence, and I was forced to speak in front of cameras, and in front of people, and it helped me get out of my shell. I was very shy growing up, and little by little I came out of it. Now I know when to lead and when to follow, and I've benefitted from the discipline soccer requires.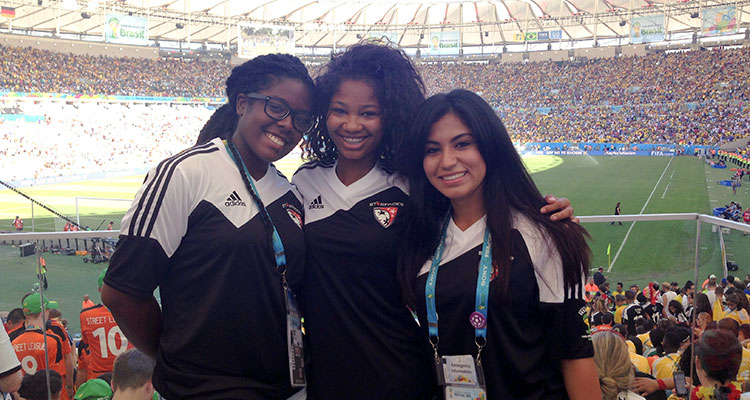 What do you plan on doing in the future?
Right now, I'm working to save money for college and waiting to go into the National Guard. My dream is to be a medic. Right now I'm an artillery specialist. I could become a sniper, too. For school, I'm going to major in physical therapy with a minor in athletic training at Millersville and West Chester. I'm excited about it. It's what I want to do. Once, my little brother broke his ankle, and because I had been playing soccer, I knew exactly what to do. That's when I knew I want to have a job where I get to help people. And being a coach at Starfinder, it's not like my other jobs, where I'm looking at the clock waiting to go home. It's fun. And now I want to find a job I really like.
How do you think the girls around you are experiencing soccer?
It's a Colombian thing to play soccer, but a lot of girls don't necessarily play. At one point, I was the only girl on the field at Feltonville. When I went to South Africa, I wanted to make a little Starfinder in Colombia for girls. You don't see that many girls there playing soccer. You don't see girls without their moms, because that's what you do if you're a girl. You grow up, you wash dishes, and you have kids. The girls that I'm coaching now, I just want them to know that all their goals are attainable, if they're willing to put in the energy and the effort. Soccer Girls Rule [Starfinder's former program for elementary and middle school girls] is trying to help these girls reach their next level.
What's one thing you wish you'd known in high school?
I wish I'd spoken as much back then as I do now. If you don't communicate what's going on, nothing's ever going to get fixed. Working here has given me a lot of perspective. It helps to understand why I would do certain things when I was younger. And as a coach, you want to keep in mind that everything you say and how you say it will affect the kid.
 Do you have any advice for kids currently at Starfinder?
Take advantage of it. I thought Starfinder was just a place to play soccer, but now I'm so thankful for it, after helping and seeing how hard the coaches work to put it together and improve it. I really hope the kids get something out of it. I appreciate that I am who I am because of this place. It's a great thing to be a part of.