February 2015
Haitian-born Luc Toussaint was a member of Starfinder's Class of 2011, graduating from Upper Darby High School before going on to West Chester University. He's currently studying communications and philosophy, and wants to eventually work with kids, especially kids from outside the country, as a teacher or counselor.
Why did you start coming to Starfinder?
It was a place to play, especially when there was snow on the ground! I kept coming back because I had so much fun there. I noticed the cultural and racial diversities, and I really appreciated that. Everyone came together despite differences.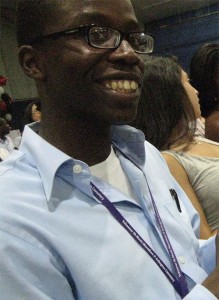 What's one great memory of your time at Starfinder?
Playing against the coaches! We would be split into teams and the coaches would form their own team. We thought we could take them but the coaches were good! Nettie was quick with her feet and Nick and Herb had powerful shots – it was definitely old school teaching new school.
How are the lessons you learned at Starfinder helping you now?
One of the things the coaches always taught us is that sometime no matter how good you are, there may be opportunities that will pass you. And it's OK as long as you keep moving and planning, and just do the best you can for next time. You're going to fail sometimes. Just learn from it.
Do you have any advice for the kids currently at Starfinder?
Practice does make perfect, so keep going at it. Also make friends while you're here, and be kind.