On Wednesday, May 25th, the Starfinder community gathered to celebrate another successful year of the Senior Leaders Program and to recognize the 24 members of the Class of 2016.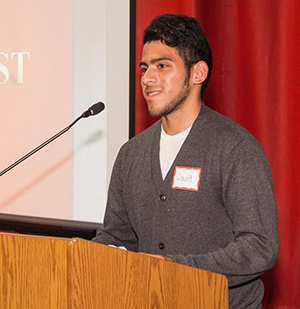 Our featured speaker was David Madrid (Class of 2012), a rising junior and Psychology major at Arcadia University. He talked about the role models he had looked up to at Starfinder and how he is now coaching high schoolers and teaching them about "teamwork, understanding, being respectful, and speaking your mind."
David challenged the 2016 graduates to "always fight for what you believe in, never settle, always push further for yourself, and to always give back."
Congratulations to all the 2016 award winners!
AWARDS
Perfect Attendance Award
One individual attended every program session of the seven-month program year. Well done, Ronald Magana!
REACH Awards
These awards recognize participants who best exemplified each element of the program's REACH agreement which they review and sign at the beginning of the year.
Readiness. Be prepared to work, learn, & contribute. — Erin Roache
Empathy. Everyone's experiences matter. Be compassionate & understanding. — Julio Alvarez, Martha Freeman
Attitude. View success AND failure as opportunity. — Fernando Lara
Communication. Use your voice, and hear others. — Bryan Hernandez
Hard Work. Always give 100%. — Axel Rukika

Stinkiest Pinnie Award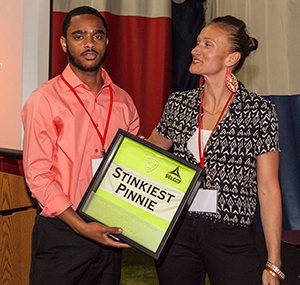 This award recognizes the participant who most embodied all aspects of the REACH agreement.
Why "stinky pinnie"? Because throughout our programs, we recognize effort – mental, physical, and emotional. The stinky pinnie is symbolic of that effort: when you work hard, you sweat, and when you sweat, you stink! (Stinky Pinnies are awarded daily throughout the year.)
Congratulations, Kyri Spearman!
Scholarships
Six graduates received $1,000 scholarships to help with their college expenses.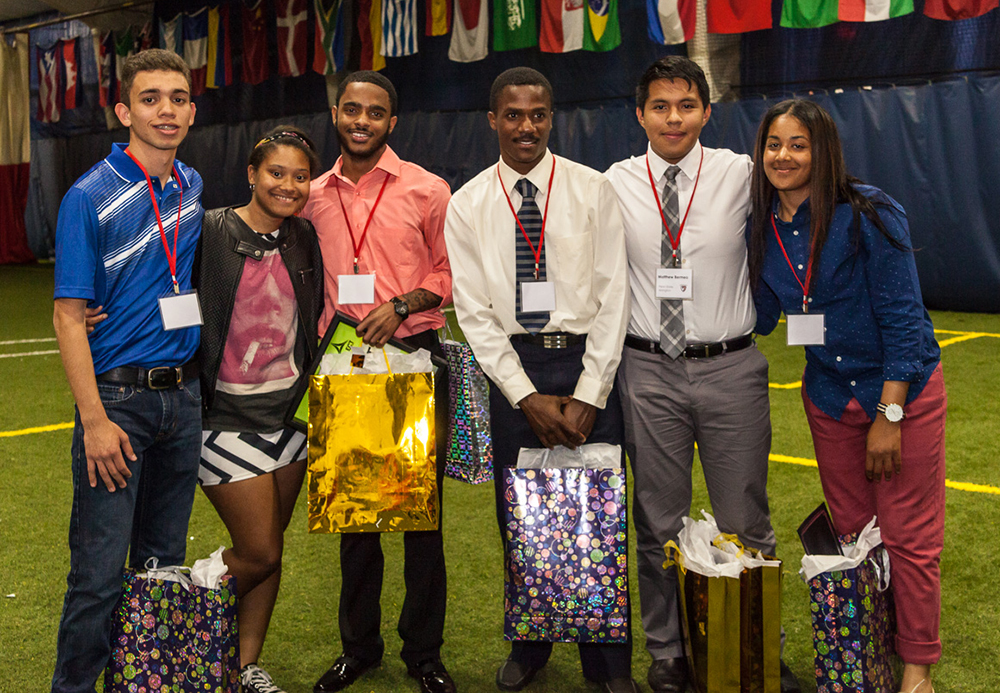 Congratulations!: (left to right) Jose Quiroz, Halimah O'Daniel, Kyri Spearman, Max Dossou, Matthew Bermeo, and Danielle Chattin.

WHERE ARE THEY GOING NEXT?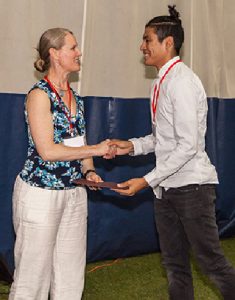 All twenty-four of Starfinder's graduates will also graduate shortly from their respective high schools, continuing Starfinder's nearly 100% high school graduation rate since 2008.
Six graduates will work for Starfinder this summer, along with six other Senior Leaders, as coaches in our neighborhood summer camps for 4-12 year olds.
Then, come fall, it's time to head off to college! All but one graduate (who is taking a gap year) will enter one of the following:
Community College of Philadelphia
Delaware Valley University
Goldey-Beacom College
Indiana University of Pennsylvania
Lock Haven University
Manor Junior College
Montgomery County Community College
Penn State Abington
Penn State Brandywine
Robert Morris University
Temple University
THANK YOU!!
Many thanks to all who make the Senior Leaders Program possible!
Generous funding was provided by the Claneil Foundation; Football for Hope; the Fund for Children of The Philadelphia Foundation; Glenmede Trust Company; Janssen Pharmaceutical Companies; Patricia Kind Family Foundation; Republic Bank; SKF, USA Inc.; UGI Utilities; and the Wells Fargo Foundation.Sponsors for the graduation event and Scholarship Fund included: SKF USA, Inc.; YSC Sports; Actua; alma architecture; Beyond Insurance; Expel Exterminating Experts, Inc.; Fairmount Ventures; goalsfit; Hanson General Contracting; The Hill at Whitemarsh; Humphrys CoverSports; Lindsay Insurance; Philadelphia Union; Philly Sport & Social; Red Dog Glass; RJS Properties; Julian Sur, CPA, and Sherry & Hall Vetterlein.
And our program partners, who help Starfinder provide more robust services and support to our youth: Alliance for a Healthier Generation; Drexel University College of Medicine, Office of Community Partnerships; Mentoring Partnership & Resource Center; Philadelphia Futures; and Up2Us Sports.  Thank you as well to EPYSA and the Rock League for supporting our Starfinder Pride travel teams.
And finally, our heartfelt thanks to all the family members, donors, staff members, coaches, volunteers, Board members, and friends who have helped the Senior Leaders Program and our students thrive!